:: 11.29.2002 ::

(listening to: The For Carnation: Standard)

[when i fall to earth i hear applause, i love to hear applause] :: Good morning, world. Damn, it's early in the morning.

Today's the one-year anniversary of George Harrison's death. Lucky for us, his posthumous album, Brainwashed, is his best in over thirty years thanks to some stellar (some say heavy-handed) production from Jeff Lyne and help from Harrison's son Dhani. It's nice to know that, even from the other side, my favorite Beatle can still send me beautiful songs like Marwa Blues. You know I'll be listening to this watching the sun come up this morning.

Today also happens to be The Daily Photo's first birthday. It's come a long way from a photo of a big fat elf. Buy yourself a print to celebrate.

I'm out of here, Bakersfield here we come.



(5:56 AM) :: (link)


:: 11.28.2002 ::

(listening to: Elvis Presley: 30 #1 Hits)

[i don't have a wooden heart] :: Holy shit, all that turkey and wine made me sleepy. I ended up *not* getting called in to work at all, which sucks for the wallet, so instead I spent the afternoon cleaning up and washing the car in preparation for Ye Olde Roadtrip tomorrow. I started getting a bit stir crazy after being cooped up in the house all morning, so I grabbed my camera and a couple CDs and headed to Oakland's Chinatown to take some pictures. My hunch was right: the place was open and buzzing with families eating dim sum and shopping for live crabs, so I walked around like an intruder and took pictures of the produce and the window displays. Note to friends: next year I want cake with a plastic naked lady on it for my birthday. I'll drink to that!

Later in the day I was having turkey withdrawals, so I ended up going over to my supervisor's house for turkey and wine and some really tasty custard for desert. I was surprised that we ended up not talking about work all that much, and I ended the night by drinking port and sorting through her husband's record collection. Looking at the albums of people my parents age is weird, 'cause I'm used to a crappy thrift store selection or the $1.00 bins at used record shops, but he actually had some quality stuff in there. There was a story behind every record I pulled out, and then I happened upon his first LP: The Beatles' With The Beatles. It wasn't the American version either, but the original mono Parlophone copy that his dad had picked up for him on a trip to London while they were living in Germany. On the front cover he had written in magic marker underneath the title "And Me!" because, as he put it, he wouldn't stop singing along to it.

I took the backway home and looked at the stars while listening to The Gilded Palace Of Sin and decided that holidays are a very, very good thing.



(10:29 PM) :: (link)

(listening to: George Harrison: Brainwashed)

oscar takes a swipe at bunny, pins him down, then realizes I was collecting evidence.


[just because it's something you think they'd do doesn't mean they did it] :: Happy Thanksgiving everybody. I've been suckered into being on call for work today, which means I'm spending the morning with confused kitties ("you're home today? but it's a weekday! AH! too much for my small cat brain! let's fight with each other."), drinking lukewarm coffee, and waiting for my pager to light up.

I really don't mind though, 'cause tomorrow we're heading out on a road-trip adventure through the Central Valley and then onwards to Los Angeles on Saturday. It will be a Friday full of Thrift Stores and quirky cafes, culminating in an experience in old-people tourism at Buck Owens' Crystal Palace. I'm hoping they have tacky mesh hats, since I can't afford the $3,000 Buck Owens Fender Telecaster with Red White & Blue chrome pick guard.

The rest of today I'm going to spend sorting through the 50+ new records I've heard this year and trying to pick out the ten best. It's going to be an extremely daunting task because unlike last year, this year I've liked most of what I've heard. For some reason, 2001 was full of disappointments, but the only unlistenable record I've picked up this year is The Gloria Record's Start Here. Just about everything else has had some shred of quality attached to it.

There's already a couple quality top-ten lists up, one at Thrown Askew and the other over at Chrome Waves. Is there going to be a Wilco sweep this year? We'll see.

In the meantime, hit me up on the instant messenger and help me solve this dilemna. Do Canadians call Canadian Thanksgiving "Thanksigving," or do they call it "Canadian Thanksgiving," and if they do, do they call American Thanksgiving "Thanksgiving," or just "American Thanksgiving?" Riddle me this, mofo.



(10:56 AM) :: (link)


:: 11.26.2002 ::

(listening to: Steve Earle: El Corazon)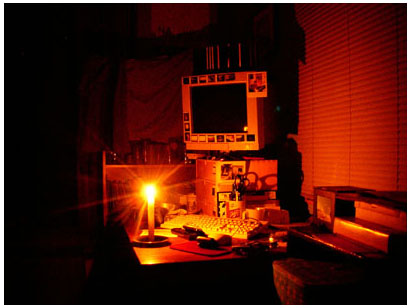 oakland, 12:17 AM

[boy i'm looking for india, but america will do] :: The Daily Photo is up (late). We were driving back from San Francisco late last night, and a little ways before our exit we saw a huge bright flash light up most of the North Oakland sky. At first I thought it was lightning until Miss Rodeo America pointed out that there wasn't a cloud in the sky. Sure enough, when we got off the exit there were tree limbs and leaves blowing around everywhere, and when we turned down our street everything was pitch black. The windstorm had knocked out the power.

Thankfully our roomate was thoughtful enough to leave a candle out for us, so we calmed the kitties down and got ready for bed by candlelight.



(6:59 PM) :: (link)

(listening to: Nirvana: Nevermind)

[and if you give me weed, whites, and wine] :: Today I decided what my next career move is going to be: a singing trucker. Now, that's not to say that I'm going to actually *be* a trucker, but that I'm going to sing and write bluegrass songs about being a trucker. I decided that I look more like a trucker driver (a good looking one though, not one of those overweight sweaty guys that I see at the truckstops in Lodi waiting for their number to be called so they can take a shower), but like a hot, sexy trucker. Think construction worker John Travlota from "Urban Cowboy" or something. Yeah, we're gonna write songs about trucker love and CBs and dodging the cops, and it's going to be great. Now I just need to learn how to play guitar, get a banjo player, a fiddler, and a bass player, and I'll be all set. Let me know if you want to join up, we'll rule third-tier North America cities everywhere!

Of course, I thought all this up while repeatedly listening to Steve Earle's cover of Little Feat's "Willin'," so that might have something to do with it. Speaking of which, here is a short letter to Mr. Earle.
Dear Steve Earle,

That record you did with The Del McCoury band was really great, but you know what? I *really* want to hear you do a whole record with The Fairfield Four, because "Telephone Road" and your cover of "Willin'" are two of the raddest, most singalongiest songs I've ever heard. If you make that your next project I promise to tour with you for for free.

Your #1 fan,

(!)


(4:18 PM) :: (link)


:: 11.24.2002 ::

(listening to: George Harrison: Brainwahed)

[hold back the road that goes to that the others may do what you let me in just to pour me down their mouths] ::
Say what?
You move really fast. I saw you screaming at the top floor. Big window crash, I'm deaf, so what'd you do that for?
Him?
In giving it up you chew a little foil
You can't return to us, to us, to us
You chew a little foil
You can't return to what to what to
What do giving it up and chewing on foil have in common?
Pack your bags - and out back out

Yeah, Pony Express Record kicks my ass, and "X-French Tee Shirt" is totally the deal-clincher. Warm Sunday afternoon in California, strange the think that Thanksgiving (known as Tom Hanksgiving in Georgia) is just around the corner, and I'm still wearing short sleeve shirts and opening up all the windows in the house. Ah, life without weather, it's the California way!



(2:22 PM) :: (link)

(listening to: Nirvana: Unplugged In New York)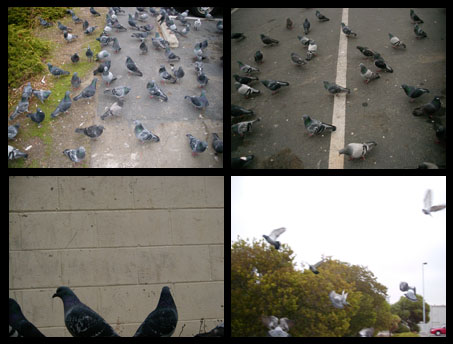 pigeons :: vallejo :: california



(11:38 AM) :: (link)